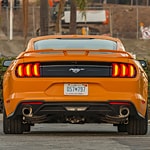 If you're seeking a car that offers performance and an iconic reputation to boot, the Ford Mustang definitely fits the bill. This popular sports car has a history that goes back decades, and the current generation's models are ready for test driving at our showroom here in Mansfield, OH right now.
A selection of powerful engines and capable transmissions allows you to create the powertrain that suits your preferences. Regardless of how you configure your new Mustang, you'll definitely appreciate the enhanced engine sound that sets this brand apart from the competition.
Whether you want to spin the tires or slip off without making a splash, you'll find that the Mustang's unique control settings allow you to customize your driving experience. You can pick from Quiet, Track, Normal and Sport settings depending on your mood and location.