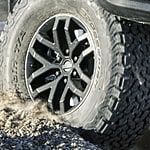 If you are looking for some serious performance from a truck, then you will want to check out the top-selling Ford F-150. This is the truck that goes the extra mile when it comes to acceleration and towing performance. Here's a lot of some of the top performance numbers from the F-150.
With the standard powertrain, you get 375 horsepower from a 3.6-liter V-6 Ecoboost engine. This is the engine that millions of F-150 owners depend on to get the acceleration and the towing power that they need to get the job done. When you want top torque, you can get 440 foot-pounds from the available 3.0-liter Powerstroke turbo-diesel engine. This Powerstroke turbo-diesel can allow you to tow more while saving you big money as the gas station.
Discover why millions of Ford F-150 are sold each year. Graham Ford invites you to take a test drive today. Get your F-150 deal right now.